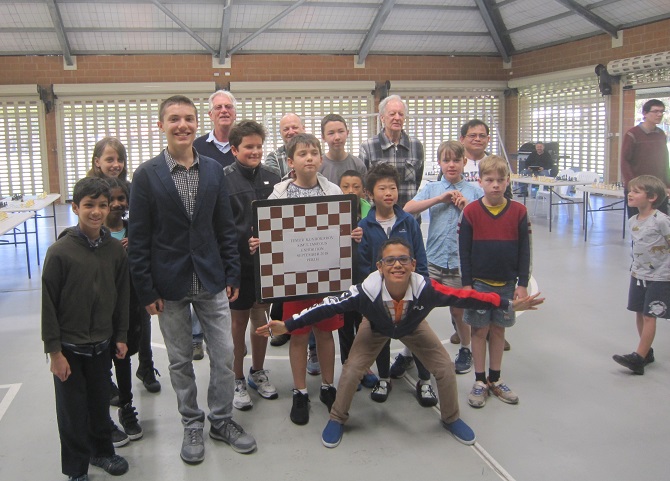 On Sunday, 16th September 2018, a simultaneous exhibition was held at the Leeming Primary School between Temur Kuybokarov and 17 local chess players.

Temur 18 and residing in Perth holds the title of IM and has achieved the three norms required to be a grandmaster. Recently he won the very strong Gold Coast Open ahead of five grandmasters.

This year's simultaneous exhibition differed from last year's in that there were fewer senior players and more enthusiastic juniors, some of whom hung on long after most of the senior players had been vanquished.

Temur playing with white pieces won all 17 games in under three hours. A perfect score!!

At the end of the simul Temur nominated four juniors who he thought had given him the best struggle. They were Ishaan Barbare, Oscar Gao, Max Murray and Timothy Kaempf. They will receive Merit trophies for their performance.

Thanks to Temur for participating in this event and the 17 players who tested his skills. We wish Temur every success in his forthcoming tournaments which are likely to include the Australian Open in December and the Gibraltar Open early next year.

Participants: Dominador Andador, Brian Gale, Timothy Kaempf, Felix Forsyth, Oscar Gao, Jamie Laubbacher, Luka Tomasevic-Ljubin, Novak Tomasevic-Ljubin, Jasmine Manolas, Mathethisri Maheswaran, Ian McAteer Iker Hernandez Mendez, Max Murray, Declan Short, Alan Wolstencroft, Eddie Young and Evan Yeung.

Report kindly provided by Alan Wolstencroft.