The WA junior chess camp was held on Wednesday 7th October and Thursday 8th October at Oberthur Primary School.

It has been sometime since CAWA organised a chess camp and judging from the general response the intention is to host another one in the forthcoming summer school holidays.

Over 40 junior chess players of different levels experienced the wisdom of a variety of chess coaches, participated in puzzle competitions and had a broad range of exposure to tactics, strategy and positional play.

Puzzle winners were:-

High Intermediate Class: 1st Issa Majidi, =2nd Eamon Harris and Kobe Wu.

Intermediate Class: =1st Thomas He, 2nd Daren Vinod.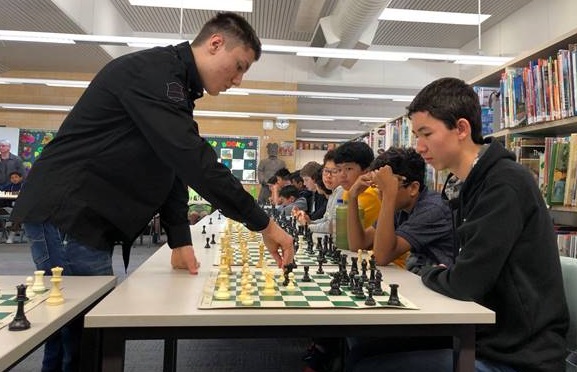 The icing on the cake was a simultaneous exhibition by Australian Chess Champion GM Temur Kuybokarov and WA State Chess Champion.

Temur took on 36 Juniors and over a period of four hours suffered only one loss to Jamie Laubbacher. (his first loss in a simul in WA).

Both Jayden Arav and Yihe Fu (Rebo) came close to a draw.

Special thanks to the following:-

* The Oberthur Primary School for being so helpful and accommodating in letting us host this event at their school.

* The chess camp organisers: Jeng Kong, Joli Mendez, and Alan Wolstencroft.

* To WA's active chess players and coaches who stepped in and conducted the sessions: Alan Wolstencroft, Norbert Muller, David Ellis, Ihsan Ferozkohi, FM Patrick Gong, Andrew Hardegen, Dennis Holland, GM Temur Kuybokarov, John Pimenov and Alan Wolstencroft.

* To Paul Harris for his tremendous support in reaching out to many junior chess players regarding chess camp, assisting with equipment setup and two full days in the chess camp as a volunteer.

* All the parents/volunteers who assisted us in hosting and running this event.

Report kindly provided by Alan Wolstencroft.