The Gufeld Cup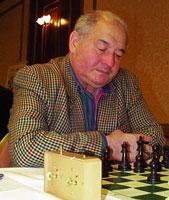 GM Eduard Gufeld
(Click on image for info about Eduard Gufelds visit to WA)



History of the Gufeld Cup.
(Presented by GM J. Eduard Gufeld)
Russian Grand Master J. Eduard Gufeld visited Perth in 1986. He stayed with Willetton Sports Club Chess Secretary, Vince Soto-Olivo, father of Gina Soto-Olivo who went on to become W.A. Junior Champion and then Australian Girls Champion.
After a simultaneous exhibition at the Willetton Sports Club, Eduard's offer to provide a perpetual trophy to the club was gratefully accepted. This was to be the Gufeld Cup, played over three days of Easter in a seven round open tournament.
After disbandment of the Willetton Club the trophy was competed for as a W.A. Grand Prix event over the Easter weekend at the Perth Chess Centre.

2013 Gufeld Cup
The Gufeld Cup (6 rounds) was played over the weekend of the 6th & 7th of April at the Moresby Street Centre in Kensington.

This yearís Gufeld Cup only attracted a borderline number of Chessplayers to the Moresby Street Hall.

If this trend continues, the viability of future CAWA weekend tournaments will come under question. I donít believe that we should consider abandoning our weekend events for two important reasons:

1. we have SOME members who still support them, and
2. they are very useful as an avenue for our young players to improve the standard of their Chess.

However, when so few play in each tournament, the cost of venue hire becomes an issue. I am becoming a bit depressed at the pitiful prize lists that I am forced to offer, time after time. If everyone is happy to accept this situation then, I suppose, we donít have a problem.

The easiest way for our tournaments to become viable is to have more members playing in them. If that doesnít happen, we may have to raise entry fees (not an attractive option) or seek out a cheaper venue Ė not that I think Moresby Street is expensive. I know of a venue that we can get for free but it is a long way from the Perth CBD.

If anyone has a suggestion to make, please let me know.

Anyway, as far as the tournament is concerned, it may have been small, but it was not weak. The top half was made up of 1900+ players and the bottom half was mostly promising Juniors.

Yita Choong dominated the tournament and won comfortably. He won all of his games, against all of his main rivals. You canít do more than that.

George Carolin-Unkovich turned in another very good result. He lost only to Yita, had wins against David Ellis, Eddy Seah and Nedeljko Tomic along the way, and seemed to have no trouble holding Marc Vlietstra to an important draw in the last round.

The other star of the weekend was Gary Donaldson. Gary played a field with an average rating of 1995 (higher than anyone else) and beat Akef Saleh in the last round to win the U1800. All of his rivals in the U1800 division were Juniors, so this was something of a victory for the older generations.

Haydn Barber, DOP




Prize Winners



Open
 1st	   	Yita Choong			6/6		 
 2nd 	  	George Carolin-Unkovich		4Ĺ 
=3rd		Marc Vlietstra			4	 
		David Ellis			4		 

U/1800
 1st 	  	Gary Donaldson			3Ĺ

Final Standings



Place Name                     Loc  Club   Score

  1   Choong, Yita             2322        6    
  2   Carolin-Unkovich, George 1715 Junior 4.5  
 3-4  Vlietstra, Marc          2052        4    
      Ellis, David             1995        4    
  5   Donaldson, Gary          1504        3.5  
 6-7  Saleh, Akef              1916        3    
      Gong, Patrick            1165 Junior 3    
8-10  Tomic, Nedeljko          1821        2.5  
      de Yaak, Peter           1971        2.5  
      Bhardwaj, Dhruv               Junior 2.5  
11-13 Seah, Eddy               2012        2    
      Yap, Ignatius            1079 Junior 2    
      Xiong, Sean              1266 Junior 2    



Cross Table



No Name                     Club   Total  1    2    3    4    5    6  

1  Choong, Yita                    6      2:W  4:W  6:W  3:W  5:W  9:W
2  Carolin-Unkovich, George Junior 4.5    1:L  5:W 11:W  8:W  4:W  3:D
3  Vlietstra, Marc                 4      5:D 10:W  8:W  1:L 11:W  2:D
4  Ellis, David                    4      7:W  1:L 12:W  6:W  2:L 11:W
5  Donaldson, Gary                 3.5    3:D  2:L 10:W  9:W  1:L  6:W
6  Saleh, Akef                     3     12:W 11:W  1:L  4:L 13:W  5:L
7  Gong, Patrick            Junior 3      4:L 13:W  9:L 11:L  0:W 12:W
8  Tomic, Nedeljko                 2.5   10:D  9:W  3:L  2:L 12:L  0:W
9  de Yaak, Peter                  2.5    0:D  8:L  7:W  5:L 10:W  1:L
10 Bhardwaj, Dhruv          Junior 2.5    8:D  3:L  5:L  0:W  9:L 13:W
11 Seah, Eddy                      2     13:W  6:L  2:L  7:W  3:L  4:L
12 Yap, Ignatius            Junior 2      6:L  0:W  4:L 13:L  8:W  7:L
13 Xiong, Sean              Junior 2     11:L  7:L  0:W 12:W  6:L 10:L

Previous Gufeld Cup Winners
| | | |
| --- | --- | --- |
| 1986 J. Simpson | 1996 M. Wilkins | 2006 D. Ellis & M. Horstmann |
| 1987 J. Simpson | 1997 M. Partis | 2007 L. Vilaseca |
| 1988 D. Ellis | 1998 T. Farber | 2008 Y. Choong |
| 1989 D. Ellis | 1999 M. Wilkins & S. Dibdin | 2009 D. Ellis & E. Seah |
| 1990 H. Barber | 2000 M. Wilkins & T. Farber | 2010 S. Kurniawan |
| 1991 H. Barber | 2001 T. Farber | 2011 Y. Choong & T. Hare |
| 1992 No Event | 2002 A. Haasse | 2012 T. Donaldson |
| 1993 H. Saroinsong | 2003 M. Partis, T.Hare, D. Ellis & R. Maris | 2013 Y. Choong |
| 1994 J. Field | 2004 T. Hare | |
| 1995 J. Field | 2005 H. Barber | |