Fred Maris

Australian Sports Medal 2000 recipient
Fred has been the Memberships Officer and Ratings Officer for WA since 1993. Much of that time also included the responsibilities as Senior Vice President.
Born in London on 7 November 1944, he learnt to play chess travelling to and from Newport Grammar School by steam train. The thirty minute trips were ideal for the little plug-in travelling chess sets to be exercised. Once he left school he left chess behind for a few years.
Fred served in the Royal Air Force for ten years, including postings to Borneo and Cyprus. Fred married Dawn, a very lovely lady, on 16 January 1966. It was during the last year in Cyprus that he taught his son, Robert all he knew about chess. Robert was three at the time!
Robert developed the enthusiasm for the game over the years and by about nine was looking for better opposition than he could find at home. Fred took him to the local village club in Essex where they lived, with the intention of collecting him later that evening.
The smoothed tongued old vicar who ran the club convinced Fred to stay for the evening and within six weeks Fred was running the club himself, which he continued to do for the next 15 years!
On arriving in Australia in 1990 and living in Rockingham, Fred helped start up the Mandurah Club. Two years later when he bought a business in the hills he formed the Mundaring Chess Club as a junior/senior club.
This club was successful until the senior element faded after a Christmas break one year. Fred then decided to try again in Midland with its larger catchment area. Midland is also run as a junior/senior club and attracts many of the younger players who have outgrown their junior clubs.
It now benefits from these players coming of age and forming a strong nucleus for the club, hence their success in the Harris/Edwardes Trophy in recent years.
Although Fred's chess achievements are not outstanding, he was well pleased with winning the Midland Challengers this year.
Fred also provides a valuable service to the chess community in Western Australia through operating his business, Chess Supplies of W.A. For the past five years he has sold chess equipment and books to local clubs, schools and the general public throughout the State.
---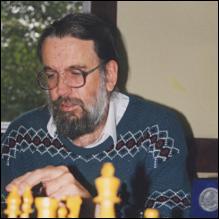 Simon Fitzpatrick
(29 July 1953 to 21 August 2004)

The chess community was saddened to hear when Simon Fitzpatrick had lost a long battle with cancer. Simon was born in Perth and had his secondary schooling at Hale. He had an early interest in chess and figured prominently in several State Junior Championships. He was an outstanding student and took a first class honours degree in Mathematics at UWA. By then he was playing chess in the senior ranks and had become a formidable opponent. He also became a strong lightning player.

His academic career took him away from Perth, firstly to study for a doctorate in Seattle and then to become a lecturer at the University of Auckland. In 1991 he returned to UWA as a senior lecturer. By then he had a high Elo rating and had become interested in correspondence chess. Although he did play some over-the-board chess after his return to Western Australia the demands of his career and his declining health meant that he rarely took part in competitions.

However, he never lost his enthusiasm for chess and this was largely focused on correspondence play. This form of the game was particularly suited to Simonís temperament and analytical skills. His success as a correspondence player was recognised by the award of the title of International Correspondence Master in 1999. He was also appointed captain of the Australian team in an international e-mail tournament.

Simonís play was always full of original ideas and he often liked to experiment with unconventional openings.

(Article was written by Mike Partis and published in a previous CAWA newsletter)
---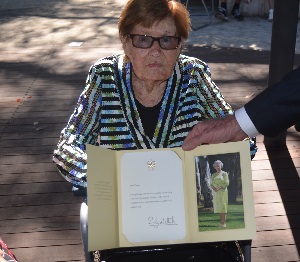 Mary Jo Fagan
(04 April 1917 to 18 January 2019)

It is with deep regret to hear that Mary Jo Fagan, 101 years old, passed away on the 18th of January 2019.

Mary Jo came to the Kingsley Junior Chess Club shortly after it was founded in 1980. She assisted Norbert Muller with teaching the juniors and was the club treasurer for 38 years. At the age of 100 with failing eyesight she decided it was time for someone else to look after the clubís books.

From 1983 to 1992 she held the position of treasurer with the Junior Chess Council.

In 1995, at the age of 78 she won the WA Womenís Championship in 1995.

In 2017 she was nominated for the Koshnitsky medal for her services to the West Australian chess community.